Platform Overview
Connect team members, advisors and stakeholders with bank grade security for easy information sharing and project management anytime, anywhere.
Navima allows you to systematically manage your M&A workflow – providing you with greater visibility, consistency and efficiency – while putting an end to communication bottlenecks and siloed working.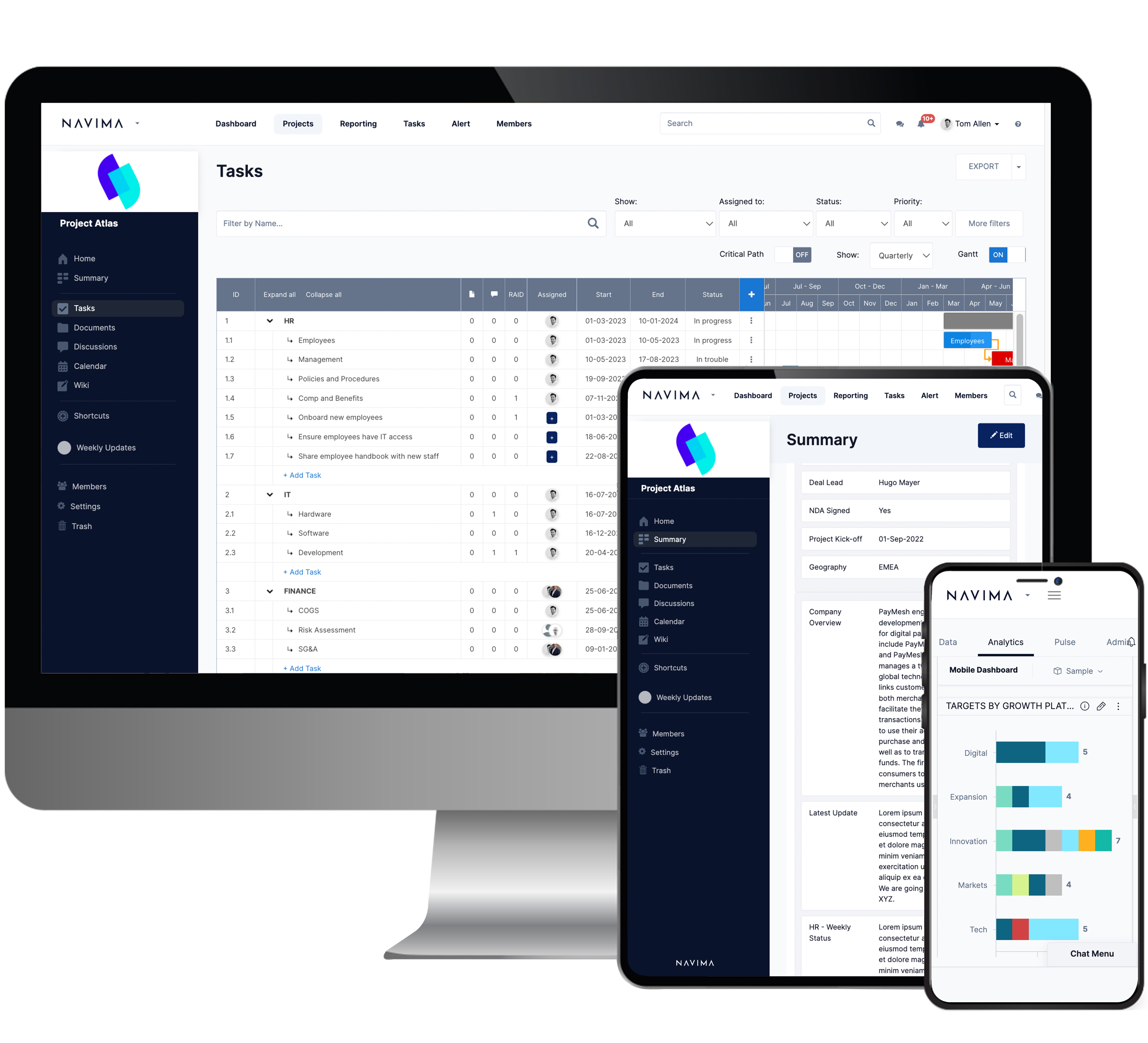 Feature rich, built by experts to simplify M&A

ISO 27001

ISO 9001

GDPR Compliant

6 User Permissions

SSO

TFA

Geo-fencing

Secure File Sharing

Version Control

File Locking & Approvals

Watermarking

Audit trail
Project Management & Digital PMO
Set up a highly customisable workspace to manage your next M&A project.
Stay on track with Project Management (with Gantt). Create a content-rich knowledge base using the Wiki (supports text, images, videos, tables, and links).
Collaborate with chat and discussion forums via PC, tablet or mobile (iOS & Android).
Navima Pulse provides critical status alerts to email & SMS, while connections to 100s of existing data sets – including Excel, Google, Asana, NetSuite and Salesforce – let you work the way you want to.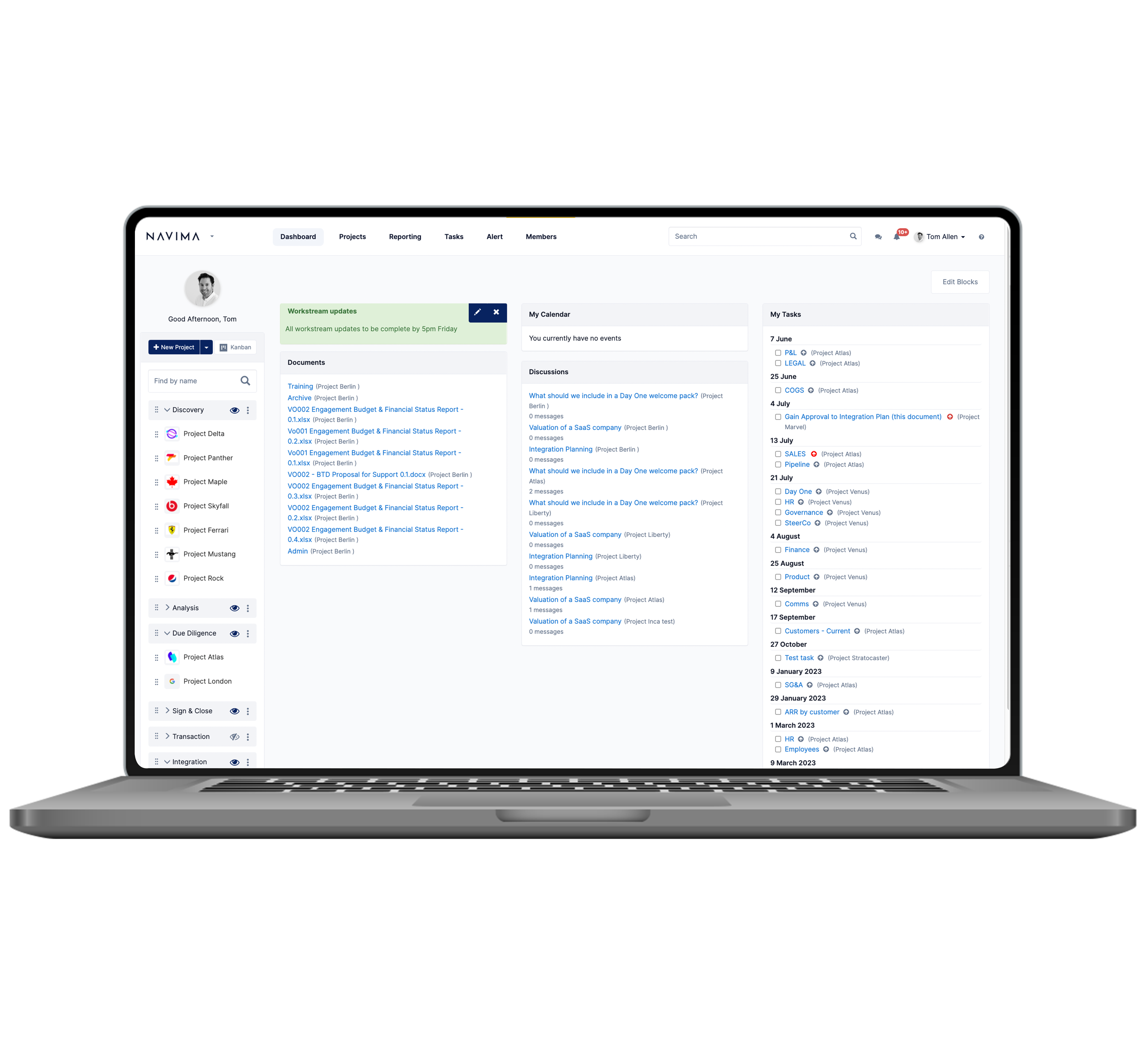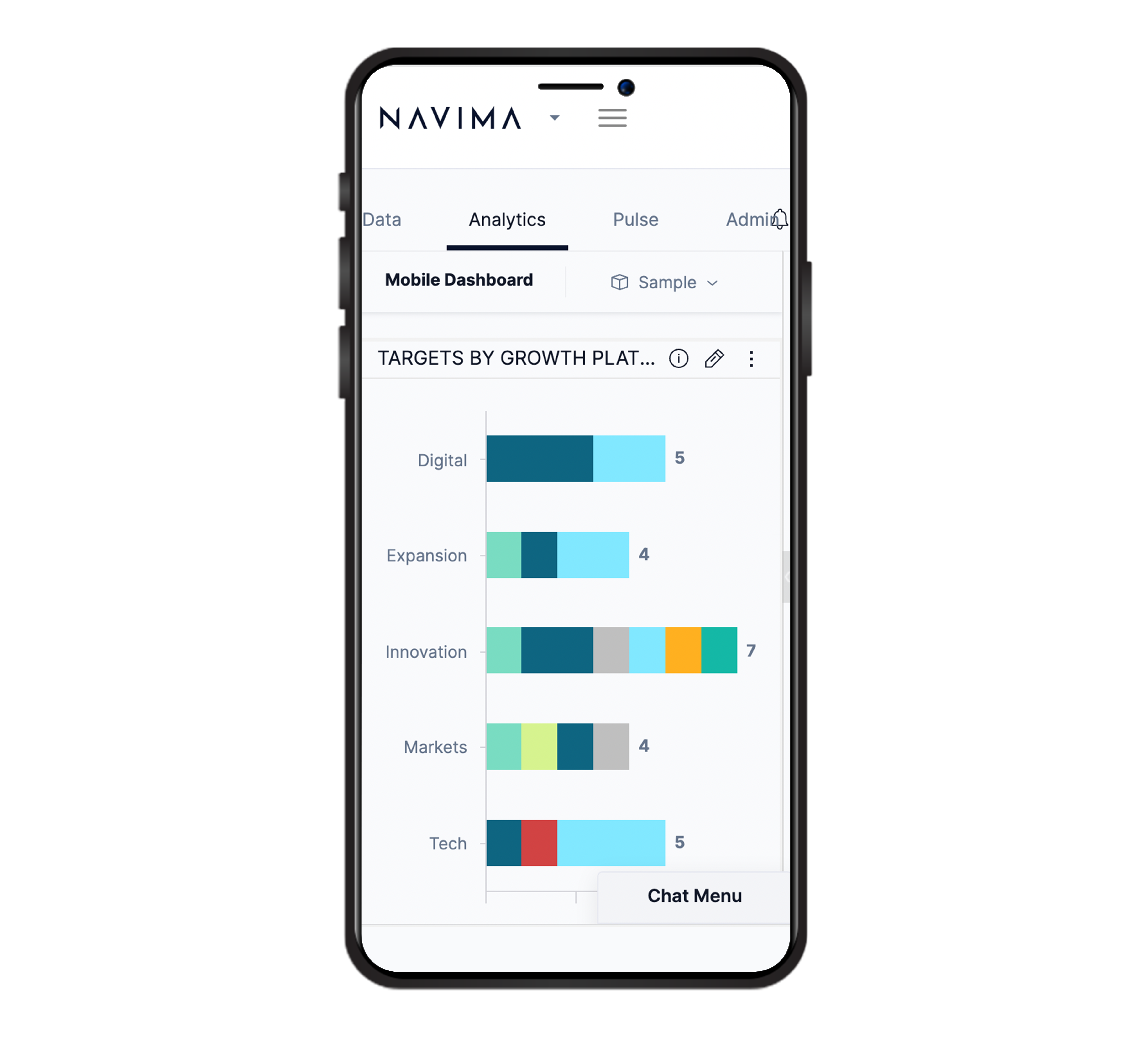 Business Intelligence Reporting
See the big picture and detail in real time with Navima's Advanced Analytics Engine.
Create beautiful dashboards and dynamic slide decks with your company branding and auto schedule sending to email.
Eradicate the culture of copying from Excel and pasting into PowerPoint.
Connect with your data, wherever it may be, for flexible working. Data connectors include Excel, Google, Salesforce, Asana, NetSuite, Oracle, Workday, data lakes and warehouses.
Knowledge Management
Use the Wiki - Navima's online document editor for knowledge management to create a suite of custom content such as best-practices, project notes or an entire project intranet.
Add attachments, hyperlinks, tables, images or embed videos to bring your content to life. Capture tacit knowledge and ensure it's accessible by all team members.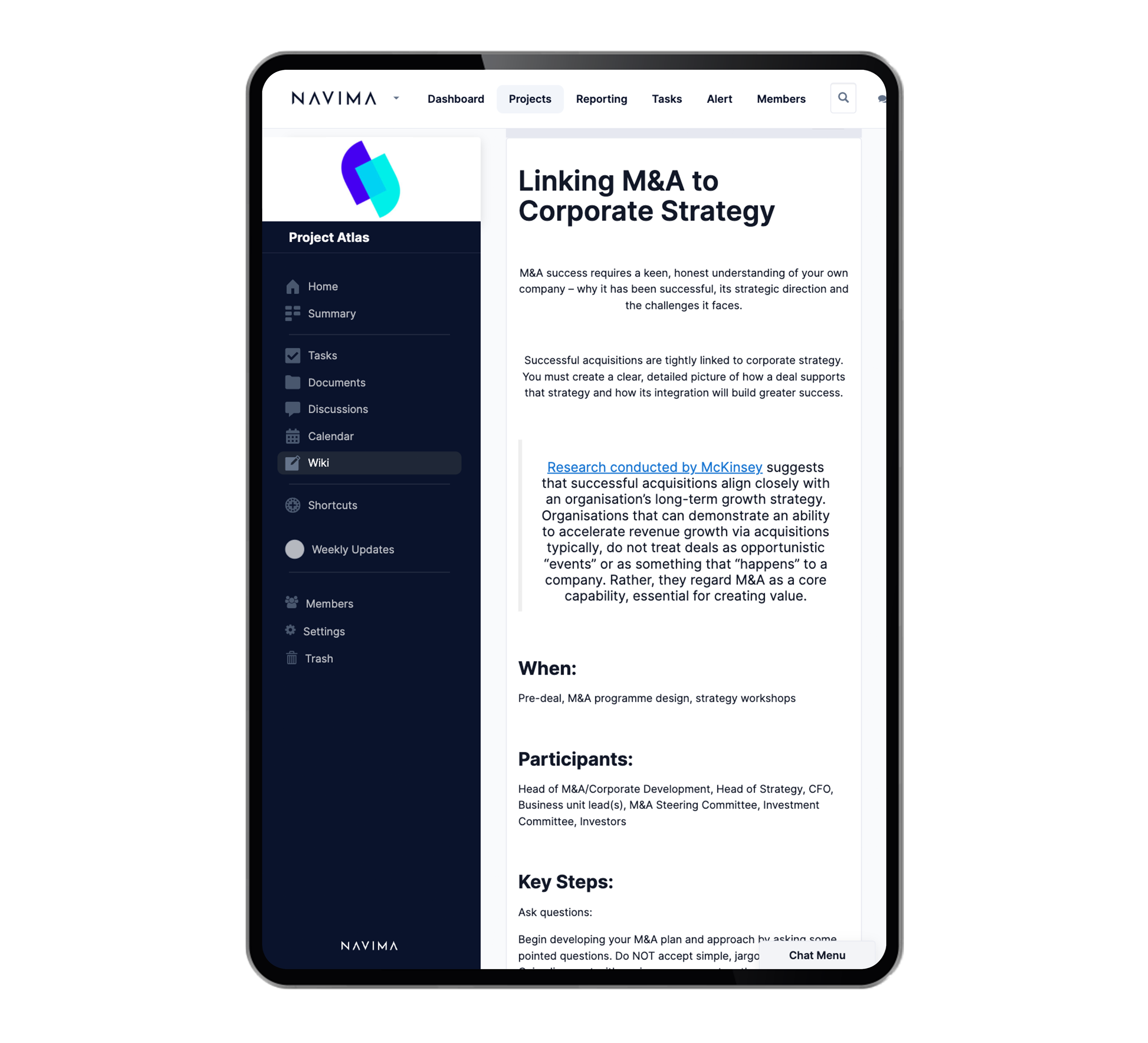 Single Source of Truth
All documents, tasks, project plans, risks, issues, conversations, etc. are located within a highly secure, ISO 27001 certified, collaborative cloud platform.

Save Time
Dynamic dashboards & reports support real time working, while compatibility with standard desktop packages and other software solutions saves teams hours when it comes to reporting across M&A projects.

Data Security
A highly secure environment for planning, executing, and reporting across M&A projects. Navima replaces the need to share confidential documents via email and allows teams to control exactly what teams and external advisors can see and do.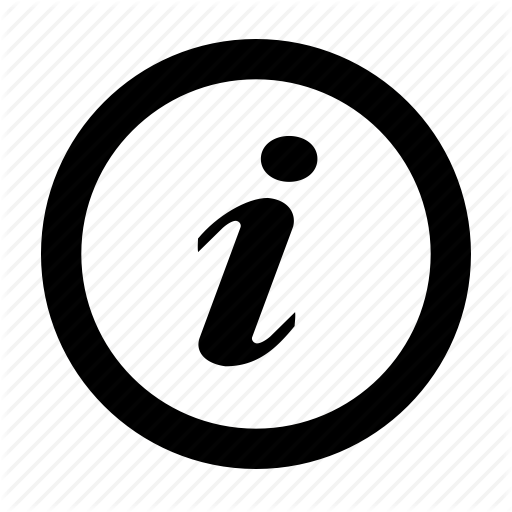 Access to Best-Practice
Playbooks provide teams with the know how to run a successful M&A project. Plus, a highly experienced network of expert consulting partners is on hand to provide additional support.
See Navima in action. Schedule a demo today
See why global companies trust Navima to bring their M&A team, data and workflow together in one place.
The demo is customised around you
Get answers to your unique questions and find out why Navima is the right choice for your next M&A project.
With Navima, you'll be able to:
Collaborate in a highly secure cloud platform built for M&A
Save time and bring consistency to your M&A projects
Build an M&A centre of excellence with best-practice playbooks